It's #YALC Weekend this weekend!
I'm not going (unfortunately) but the whole concept of YALC is super exciting to me, firstly because I love YA fiction and secondly because when I did my first bout of work experience we were preparing for the first ever YALC which I loved!
So as my own personal tiny contribution to this year's YALC, I'm going to count down my top 10 YA reads (and trust me there could be fierce competition) with some honourable mentions below. These are in no particular order, but feel free to fight it out in the comments below.
1. The Fault in Our Stars – John Green 
Despite the tumor-shrinking medical miracle that has bought her a few years, Hazel has never been anything but terminal, her final chapter inscribed upon diagnosis. But when a gorgeous plot twist named Augustus Waters suddenly appears at Cancer Kid Support Group, Hazel's story is about to be completely rewritten.
This book is the single biggest reason why YA books should not and cannot be dismissed as something lesser or only for young adults. John Green's writing is so ridiculously powerful and clever and important that I would recommend this book to anyone and everyone. And I would recommend you read it twice, because you get so much more out of it the second time, noticing the nuances and brilliance in Green's writing. When people ask me 'Why do you love YA so much?' this is the book I will throw in their faces.
2. Elsewhere – Gabrielle Zevin 
Liz is killed in a hit a run accident and her 'life' takes a very unexpected turn. At nearly sixteen she knows she will never get married, never have children, and perhaps never fall in love. But in Elsewhere all things carry on almost as they did on earth except that the inhabitants get younger, dogs and humans can communicate (at last) new relationships are formed and old ones sadly interrupted on earth are renewed.
A criminally underrated book in my humble opinion. I'm still devastated I can't find my copy anywhere because I love love love this book. It's such a thoughtful and deep book, with a really interesting concept and quite complex themes. It's kind of a YA version of Mitch Albom's Five People You Meet in Heaven but for me was a lot more uplifting and cathartic. The writing is simple and pleasant but the Benjamin Button style narrative really packs a punch and leaves you with a poignant sense of the importance of life, relationships and redemption.
3. Before I Fall – Lauren Oliver 
They say 'live every day as if it's your last' – but you never actually think it's going to be. At least I didn't. 
The thing is, you don't get to know when it happens. You don't remember to tell your family that you love them or – in my case – remember to say goodbye to them at all. 
But what if, like me, you could live your last day over and over again? Could you make it perfect? If your whole life flashed before your eyes, would you have no regrets? Or are there some things you'd want to change…?
Whoops, another book about death. But totally different concept. Reliving that last day over and over again, it's kind of magical and beautiful and offers another view on introspection. Sam is allowed to see herself through other peoples' eyes and her Groundhog Day reveals the most intimate things about her life: the people that matter, the people whose lives she has affected whether inadvertently or intentionally, and the very core of her being. Even if Sam can't change her own destiny, maybe she can change the fate of the people who will live beyond her. Lauren Oliver is basically a genius writer and if you only know her for Delirium you're seriously missing out on this brilliance.
4. All The Bright Places – Jennifer Niven 
When Finch and Violet meet on the ledge of the bell tower at school, it's unclear who saves whom. And when they pair up on a project to discover the 'natural wonders' of their state, both Finch and Violet make more important discoveries: It's only with Violet that Finch can be himself – a weird, funny, live-out-loud guy who's not such a freak after all. And it's only with Finch that Violet can forget to count away the days and start living them.
But as Violet's world grows, Finch's begins to shrink. How far will Violet go to save the boy she has come to love?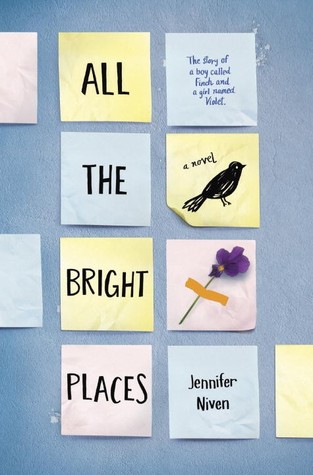 I have reviewed this book before on this site, which you can read here. What I really love about this book is that it does not shy away from the difficult stuff: the depression, the anxiety, the painful parts of life that do exist, and exist quite painfully and almost heightened for young adults. There is so much more pressure on young adults than adult adults really realise and the burdens carried by young adults can often become too much. But in a book that can be so heartbreaking and dark, the characters are some of the most vivid and alive characters I've ever read. I think Theodore Finch has rightly taken his place as a YA hero alongside Peeta Mellark, Augustus Waters, and Etienne St. Clair.
5. Fangirl – Rainbow Rowell 
Cath and Wren are identical twins, and until recently they did absolutely everything together. Now they're off to university and Wren's decided she doesn't want to be one half of a pair any more. It's not so easy for Cath. She's horribly shy and has always buried herself in the fan fiction she writes, where she always knows exactly what to say and can write a romance far more intense than anything she's experienced in real life.
Without Wren Cath is completely on her own and totally outside her comfort zone. She's got a surly room-mate with a charming, always-around boyfriend, and a fiction-writing professor who thinks fan fiction is the end of the civilized world.
Now Cath has to decide whether she's ready to open her heart to new people and new experiences, and she's realizing that there's more to learn about love than she ever thought possible . . .
Another book I have previously reviewed, with another boy that I totally fell in love with. It's a total coming-of-age story about how growing up and growing apart can sometimes be the hardest part of ageing. Rainbow Rowell is a completely brilliant writer who just gets how to be a young adult, and what I really like about this book is that it's not set in high school. Because sometimes we do have our first loves and first get to know ourselves at university. Not everything in a young adult's life happens in high school. She's created really vivid and loveable characters that exist on and off the page because they're understandable and relatable. I'd love to read what happens next in Cath and Levi's story, even though I know the demand is more for Simon and Baz.
6. Hopeless – Colleen Hoover 
Sky meets Dean Holder, a guy with a promiscuous reputation that rivals her own. From their very first encounter, he terrifies and captivates her. Something about him sparks memories of her deeply troubled past, a time she's tried so hard to bury. Though Sky is determined to stay far away from him, his unwavering pursuit and enigmatic smile break down her defences and the intensity of their relationship grows. But the mysterious Holder has been keeping secrets of his own, and once they are revealed, Sky is changed forever and her ability to trust may be a casualty of the truth. 
Only by courageously facing the stark revelations can Sky and Holder hope to heal their emotional scars and find a way to live and love without boundaries. 
I know not everyone loves this story and it certainly does have its problematic moments; however, again, I enjoyed this book because it deals with intense and difficult themes that do exist in life such as trust, heightened emotions and damaged pasts. It also has an element of mystery in it as the reader explores Sky's life and history, which she doesn't fully understand. Even my mum loved it, which is proof that YA doesn't always mean YA. The relationship between Sky and Holder is so deep and so moving that I challenge you to not read this in one sitting. Because I know I would've found that impossible. It's a story that can be read over and over again and still be brilliant.
7. Catcher in the Rye – J.D. Salinger 
Holden Caulfield is a seventeen- year-old dropout who has just been kicked out of his fourth school. Navigating his way through the challenges of growing up, Holden dissects the 'phony' aspects of society, and the 'phonies' themselves: the headmaster whose affability depends on the wealth of the parents, his roommate who scores with girls using sickly-sweet affection.
You might argue that this book isn't YA, but to me, it is the quintessential YA novel. A novel (previously reviewed here) that deals with issues related to growing up such as identity, loss, alienation, and the desperate attempt to keep the young innocent. Again, like TFIOS, it's a book that must be read twice to really get the most of out it, in order to really understand Holden and the desperate loneliness and pain of a teenager who could easily be dismissed as cynical and pessimistic. But the reality is that Holden is only pessimistic because life has let him down. I still think this novel is as relevant today as it was in post-war USA, because when we read novels like All The Bright Places that deal with depression and pain, they're reminiscent of Salinger's earlier work, but without (forgive me) Salinger's depth and complexity of writing.
8. Anna and the French Kiss – Stephanie Perkins 
Anna is less than thrilled to be shipped off to boarding school in Paris, leaving a fledgling romance behind – until she meets Etienne St Clair. Smart, charming, beautiful, Etienne has it all… including a girlfriend. But in the City of Light, wishes have a way of coming true. Will a year of romantic near-misses end with a longed-for French kiss?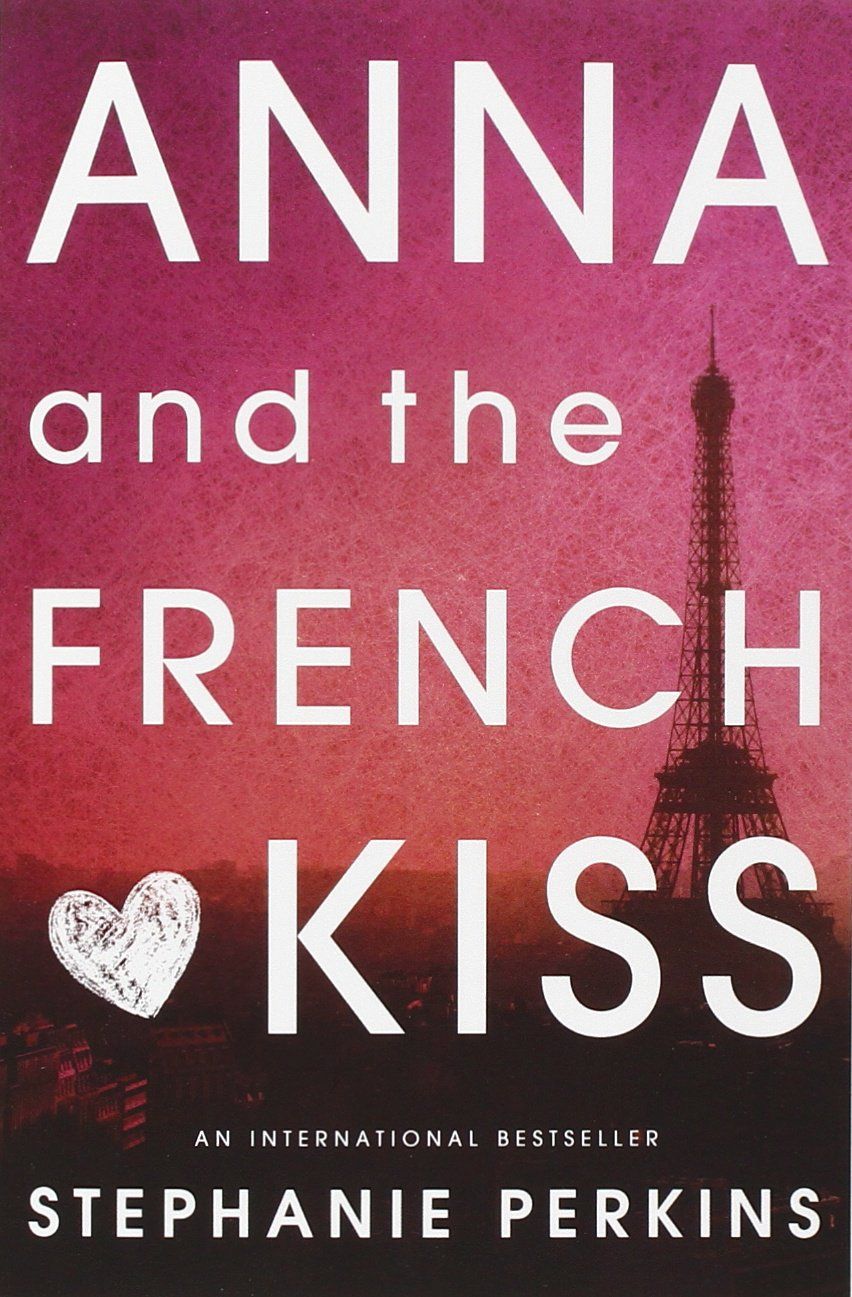 I love this book. LOVE LOVE LOVE IT. It's an easy read full of love, light, humour, and French cinematic bliss. And it doesn't hurt that Etienne St. Clair is dream boyfriend material. Anna is just a really relatable character that doesn't take herself massively seriously, and Stephanie Perkins perfectly captures the agony of having a crush on someone else's boyfriend and not being able to do anything about it. It's light, it's fluffy, and it won't break your heart. So yeah, this makes my top ten purely for being gorgeous. (And no, I'm not just talking about Etienne).
9. Every Day – David Levithan 
Each morning, A wakes up in a different body. There's never any warning about who it will be, but A is used to that. Never get too attached. Avoid being noticed. Do not interfere.
And that's fine – until A wakes up in the body of Justin and meets Justin's girlfriend, Rhiannon. From that moment, the rules by which A has been living no longer apply. Because finally A has found someone he wants to be with – every day . . .
My previous review of this novel is available here. And as I checked that review for comparisons with this, I realised I was about to start this one in exactly the same way. But it's true, this is a genius idea for a novel. Levithan uses a new and exciting concept to analyse themes that do appear frequently in YA novels: identity, human emotions and relationships, and of course, love. But how can you love someone when you don't know who they'll be the next day. My heart broke for Rhiannon and A because theirs is a love story that literally has the world against it. With each new body A inhabits, Levithan has a chance to explore new characters and new nuances, like depression, homosexuality, self-loathing, sibling relationships, themes that often appear in YA but here are touched on and explored in an interesting way because they only last for a beat whilst A inhabits that body. It's a hugely unique and impressive work that I truly recommend.
10. We Were Liars – E. Lockhart 
A beautiful and distinguished family.
A private island.
A brilliant, damaged girl; a passionate, political boy.
A group of four friends—the Liars—whose friendship turns destructive.
A revolution. An accident. A secret.
Lies upon lies.
True love.
The truth.
SUCH a complex and challenging book. Combining the privileged world of Gossip Girl and 90210 where actions seem to have no consequences, with the hostile suffocation of Lord of the Flies and the summer that seemed to destroy everything. E. Lockhart is a brilliant writer who writes about love and relationships and privilege with a wise and thoughtful view. The Liars' story is captivating and enthralling which keeps momentum until the end and explores with depth the impact of tragedy on teenagers.
---
Honourable Mentions: 
The following three are honourable because I just couldn't fit them in the top 10: 
I'll Give You The Sun – Jandy Nelson
Delirium – Lauren Oliver (the first book is great, but the series does go downhill afterwards)
Paper Towns – John Green
The final three are honourable because I don't truly believe they can be counted as YA, even though they may at first have been marketed for younger audiences: 
The Harry Potter Series – J.K. Rowling
Asking For It – Louise O'Neill
The Book Thief – Markus Zusak
---
THERE YOU HAVE IT.
Thoughts? Feelings?
Share below!